T
roup
G
oloache
T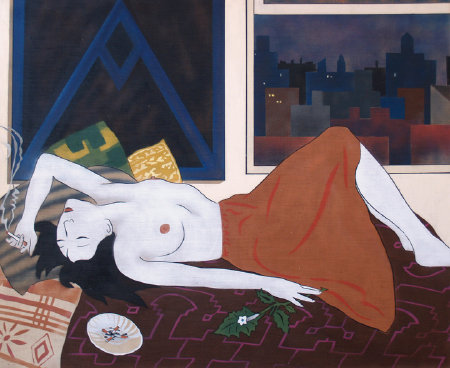 roup
oloache
T
G
"Toloache"
"Midnight Tag"
Drawing for "Toloache"
1989
1989
1986
"Toloache"
spray enamal on prepared linen
1989
"Midnight Tag"
spray enamal on prepared linen
1986
Drawing for "Toloache"
pencil and ink on hand made paper
1989
54 x 44.25 inches
54 x 44.25 inches
36 x 48 inches
BEHIND THE PAINTING "TOLOACHE"




"Toloache" is a word from the ancient Aztec language, for the plant now known as Datura, sometimes referred to as "jimson weed". The plant is found throughout North America, and is said to be used by native shamans as a means to accomplish 'conscious dream-travel'.
The reclining figure is drawn to emulate the Japanese "Ukiyo-e" woodblock prints of artists such as Utamaro and Haranobu. The 'stencil' technique employed, with some "free-hand' spray technique emulate the wood-block look. Even the smallest details in "Toloache", were created with stencils.
The figure, herself, lies in a pose taken from a 'fallen female warrior' depicted in fresco, on a wall in the ancient Roman ruins of the city of Pompeii.
The sword and sheild of the original figure have been replaced with the 'toloache flower', and the ashtray.
She lies on cloth decorated with a pattern printed by native Amazonians who drink the hallucinagen, "ayahuasca". In that South American rainforest culture, hallucinated patterns are used to identify every element of the natural world.
The out the window is the view from the studio where the painting was made, on the West Side, in downtown Manhattan. The time is pre-dawn. The year was 1988.
This painting is an allegory of the East Village art scene.
Though Scot Borofsky was thought of by some as the "spiritualist" of the East Village art scene, the "darkness" of this painting points to the experience of living in an artists' community, in an inner city "heroin neigborhood" at the beginning of the "AIDS" epidemic.